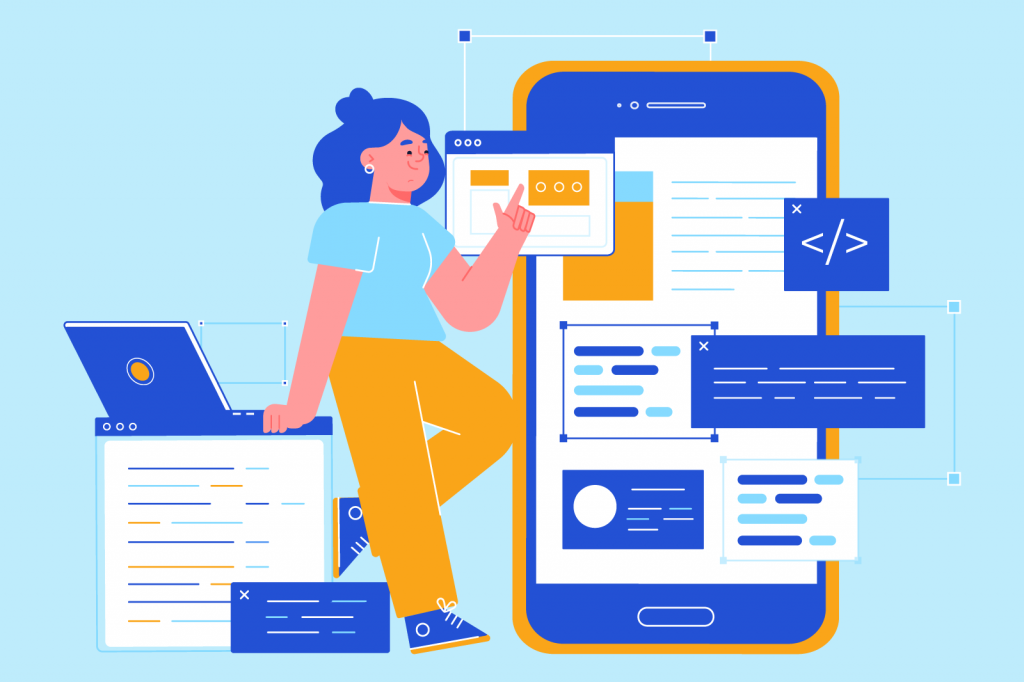 A Comprehensive Guide on How to Outsource Mobile App Development
Mobile apps have conquered the world, and we mean it literally as, on average, U.S. users have around 80 apps installed on their smartphones and use 10 apps per day and 30 per month. If that isn't sufficient, in 2022, the market had a 10% increase, and users spent around 4.9 hours using apps daily. But what does this mean to your business?
- Mobile apps are an integral part of our digital life, and users got accustomed to using them on a daily basis;
- Mobile apps allow your business to nurture your relationship with your customers as you can increase engagement and retention, offer them special promotions, and more;
- For internal purposes, mobile apps can increase the adoption of specific rules and procedures and simplify organizational processes.
Application Development Outsourcing - why should you consider it?
If you're looking to build an efficient mobile app for your customers or internal purposes, frankly, you have three options:
- Develop it in-house: If you have an internal team, you could consider developing it yourself. While this option might initially sound optimal, you might discover it's not as efficient. More on that to follow.
- Find a freelancer – Finding a freelancer to develop your app is a sound option, especially if it's a simple application with few functionalities. You must remember that while costs might be lower, the outcome and timeframe might not be as expected.
- Outsource app development – The third option is to outsource your app development to a specialized company with specific and comprehensive competencies and know-how. We will dive into what makes this option a great choice further below.
What are the benefits of outsourcing app development?
Show me the money – Cutting costs efficiently
 Let's be honest when deciding on whether to outsource app development or not; money talks. From the options mentioned above, outsourcing can be the most cost-efficient for you because:
- Staff availability and workload – If you're choosing to develop the app in-house, you might end up paying for your team full-time, even though you don't have as much work to keep them busy.
- Cost implications by geography – If your business is based in the U.S. or U.K., you are accustomed to the average costs of local developers. Offshore app development enables you to unlock the same level of expertise at a lower price. Easter Europe and Romania are great options providing high levels of quality while keeping costs relatively low. Our detailed blog article explains which country is best for software business.
- Quality impacts the final cost – Outsourcing app development unlocks the potential for a better-made app in the first place as you're putting it in the hands of specialized professionals that do it with passion and confidence. A rock-solid app will eventually save you money from eventual redesigns and changes. Even though other options might look more cost-efficient, you need to factor in the additional costs that might arise if the app is not thoroughly designed and developed.
- It's more than meets the eye – While outsourcing app development, you're saving money on additional resources that otherwise you should consider, such as the hardware involved, office resources, employee benefits or bonuses, and more.
More resources where it really matters
It's not always a matter of whether your business can make it in-house but about priorities. Outsourcing app development means that you can use your internal resources for critical aspects of your business. It gives you the leverage to entirely focus on your core business, developing its reach, increasing customer satisfaction and retention, or discovering new potential markets.
Solve capacity issues
Outsourcing app development is a time-efficient solution if you need capacity quickly for such a project. Aside from the cost and time of recruiting new professionals, you could maintain your all-important deadlines, as the hiring process could take weeks or even months. When you outsource app development, you access those resources instantly, meeting your deadline much easier.
Quality in a fast-paced world?
The short answer is yes; the long answer is a bit more complex. Quality is at the core of your business; we know how important it is to deliver your best for your client, which is also critical to us. Outsourcing app development to a specialized partner means that all the combined decades of experience, industry know-how, and technical expertise will be put to work for the success of your app – in short, you're increasing your app's success and quality potential.
Better, more accessible access to top industry talent
We're sure you know how difficult it is to find the right match and how long it takes to recruit the right person in your organization. With app development outsourcing, you can access a broad pool of international talent whenever you need. From app, developers to UI/UX designers outsourcing app development companies maintain a highly skilled team that works with the latest technologies and has considerable experience in many industries.
Faster digital transformation
You can accelerate your business's digital transformation or deploy multiple projects simultaneously with app development outsourcing. You can adapt much faster to market changes and further improve your efficiency without being limited by your internal capacity or resources.
Is it all milk and honey? What are the risks and considerations when outsourcing app development? 
Nothing is perfect, and app development outsourcing makes no exception, especially if you don't account for the risks and involvement. Outsourcing app development can be highly beneficial for your business, but we encourage you to consider the above factors:
The potential lack of control
Working with your in-house team has its perks, as you can see the progress in real-time. Lack of control is one of the more severe issues that might arise while outsourcing app development, but the good news is that there are ways to avoid that if you choose the right partner for your project. At Ontegra, we understand how important this is; that's why we use specialized project management tools to track and present the progress while organizing weekly, monthly, and even daily meetings with our clients to ensure that transparency is deployed throughout the project.
Sensitive info 
While working with an outsourced app development company sharing sensitive information is unavoidable. We encourage you to sign an NDA with your development partner to create a fair framework for sharing confidential information between both sides.
Communication discrepancies
Effective communication is the secret sauce for a successful app outsourcing project, which means it should be at the top of your mind when choosing whom to work with. It would be best to consider the outsourced team's English proficiency level and the cultural differences that might clutter the project's progress. If you are based in the U.S. or U.K., Easter Europe makes a lot of sense because of the cultural similarity and excellent level of English proficiency.
The Step-by-Step Guide on How to Outsource App Development

1. Start with the project requirement. 
Before making any definitive step, you must ensure that the app requirements are clearly defined so that your outsourcing partner perfectly understands what a successful project will look like for you. Try to answer these questions:
What is the objective of the app? What problem should it solve?
Does the app need to be built for Android, iOS, or both?
What functionalities will the app have?
What are the must-have functionalities, and what are the nice-to-have ones?
What will the monetization model look like (if any)?
2. Decide on the location/locations of your future outsourcing app development partner
.
This step is essential for your future efforts. There is no right or wrong, but you must consider the advantages and disadvantages of different areas or countries. While some might offer better rates, you might lose the quality or cultural match – try to find the sweet spot between costs, quality, communication, and cultural fit.
Find out more about some of the best countries to outsource software development.
3. How much does it cost to outsource mobile app development? - Simulate your costs
Based on the average hourly rate of the region/country you choose, you can simulate how much your app development could cost. To make that possible, you should review your project specifications with an internal specialist to evaluate the app's complexity, the UI/UX, and the back-end infrastructure needed. With the information obtained, you should be able to estimate the required resources and costs early. If you find it too costly, move back to point two or try to present the situation up-front to the companies you will interview.
4. Do your research
Take some time to shortlist outsourcing app development companies in the selected country. Here are some key points you should look at:
- Perceived expertise and quality – Look at their past projects and testimonials to get a feel for their experience, quality level, and customer satisfaction.
- Have a critical eye on its website and social media presence – If a company promotes itself as highly skilled and providing a high level of deliverables quality, that should be reflected on its website and materials.
- Cultural and values match – Research their social media presence and website to understand their business culture and values; they should be as close as possible to your company to provide frictionless collaboration between teams.
5. Choose your service and payment model.
There are three main service models that you will need to consider:
Fixed-price app development model:
This model requires thorough documentation beforehand and an SOW paper (Software Development Statement). The vendor can provide a fixed price for your project with this information. The price will only change if the project scope and specs will change.
Time & Material app development model:
This is often the most used model because it provides you and the vendor extended flexibility. You agree on an hourly rate and only pay for the actual work. This model works hand-in-hand with the agile methodology we deploy at Ontegra because we can split the project into multiple stages with individual deadlines; this way, you have a better cost overview for each critical step.
Staff Augmentation:
As the name suggests, you can hire app developers to meet your peak demands. The main advantage is that the vendor is still reasonable for their quality of work and efficiency.
6. Time for the interviews
Contact your shortlisted companies via the website's contact forms or social media, such as LinkedIn, and schedule an interview. To help you with the discussions, here a some of the questions we recommend using:
- What are some of the similar projects you have completed? 
- Can you tell me your challenges during these projects and how they were overcome?
- What is the best app development project you have implemented so far? What's the worst?
- How much would it take to start the app development project if we signed the contract?
- Can you describe the company culture and values? How would you describe your team?
- How does your app development process look like? What model and methods would you deploy for my project and why?
- What are the overall fees and payment terms?
If you want a complete list of questions to use at the interviews, check the complete guide on how to outsource software development projects.
7. Make the most out of the outsourcing app development partnership
After the interviews, you will have the difficult task of choosing the right outsourcing app development partner. You can read about how to make the right choice by reading our article on the subject here. Even though you made the best possible choice, you still need to ensure you will make the most out of the collaboration; this is why we recommend following these tips & tricks:
- Discuss clear expectations and appoint a project manager
We encourage you to be honest from the beginning and explain to your vendor what your expectations are. Afterward, it would help if you assign an internal representative or project manager to interface you and the outsourced app development company.
- Establish a clear communication channel
As previously said, communication can make or break it. For complex issues, you can use email followed up by a team call, and for day-to-day communication, you can use Slack, Skype, or WhatsApp groups to ensure fast responses and increase team chemistry.
- Propose daily catch-up calls
To overcome the potential lack of control that outsourcing can bring, propose implementing a daily catch-up call. They should be 10 – 15 minutes short, so you will know everything goes according to plan.
Outsource app development to Romania.
Romania and Cluj-Napoca are excellent destinations for app development outsourcing, with thousands of software companies varying from small to multi-national entities. If you are looking to outsource app development, here are some key benefits for considering Romania as your next destination:
Highly Skilled Professionals: Romania and Cluj-Napoca are well known for their software professionals. With two universities covering information technology, Cluj-Napoca raises thousands of talented developers yearly.
Great cultural fit: Romania has a very similar culture to Western Europe, the U.S., and the U.K. Furthermore, it ranks much higher than countries from other regions in terms of English proficiency level, ranked 17th out of 100 countries in the E.F. English Proficiency Index in 2022.
The effervescent software development industry: Cluj-Napoca is often called the "Silicon Valley of Easter-Europe." The city is home to many start-ups and big international players that ensure a large pool of highly trained and experienced software and app developers.
Are you convinced outsourcing your app development is the right choice for your business? With Romania's talent pool, cultural compatibility, and robust software development industry, we at Ontegra are ready to turn your app idea into a reality. Let's kickstart your mobile app development journey together. Contact us today!