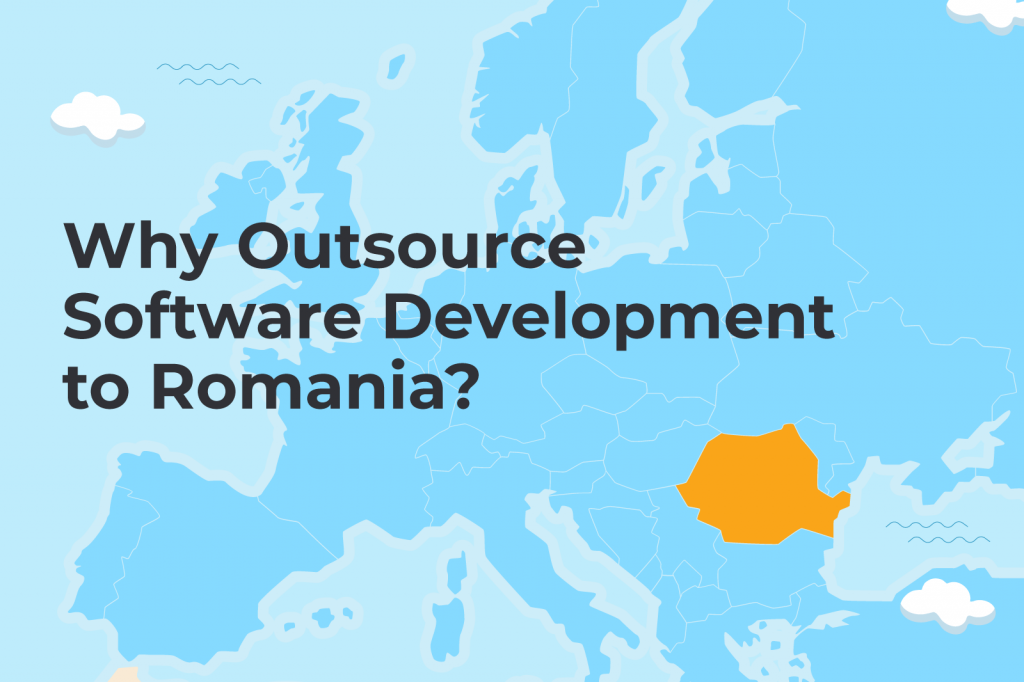 Why Outsource Software Development to Romania?
If you are considering outsourcing software development, you may have many options from various regions, including Eastern Europe and Asia. While Romania might not be the first country to come to mind, its unique traits make it an ideal destination for outsourcing software development. This article explores what makes Romania such an attractive I.T. destination and how it compares to other viable outsourcing options.
Read more on how to how to start outsourcing custom software development, by checking our in-depth article.
1. The Right Mix of Technology and Know-How
Romania is renowned for its software development talent pool, proficient in popular programming languages such as JavaScript, SQL, Java, Python, PHP, C++, and Scala.
This diverse expertise enables software development outsourcing companies to deliver high-quality products regardless of the tech stack.
Additionally, Romania boasts specialists in cutting-edge technologies like Artificial Intelligence (A.I.), Big Data, DevOps, Blockchain, and IoT. Even for legacy technologies like COBOL and Teamcenter, Romania has a consistent niche of specialized software developers.
Romania's thriving tech universities contribute to the continuous supply of skilled developers. Major tech players like Microsoft, Amazon, Google, and Oracle have established a strong presence in Romania, attracting top-notch talent nationwide.
This unique mix of technology know-how ensures that Romania remains at the forefront of the software development industry, capable of handling diverse and complex projects with efficiency and expertise.
2. Romania: One of the Best Price-to-Quality Ratios in Software Development Outsourcing
When considering outsourcing software development, one of the primary concerns is the balance between quality and costs. So, answering the question "Why outsource software development to Romania" revolves around its excellent quality-to-price ratio.
According to Salary Explorer, the average salary for a software engineer in Romania is approximately 1600 EUR or 1800 USD per month, resulting in competitive hourly fees ranging from $25 to $50.
Romania offers a cost advantage compared to other European countries like Poland, Hungary, and the Czech Republic. The difference is even more significant compared to Western European countries like Germany ($50-$100) or the U.K. ($60-$120).
Read more: In-depth analysis of how some of the best outsourcing countries compare .
Despite its cost-effectiveness, Romania maintains high standards of software development quality. The country's developers are committed to delivering top-notch solutions, earning them a reputation for reliability and customer satisfaction.
Companies that outsource to Romania can expect to receive value for their investment, gaining access to skilled professionals who take pride in their work and deliver exceptional results.
3. Great English Proficiency Level and Cultural Match between Romania and Western countries
Outsourcing success relies on effective communication, and Romania excels in this area, with English being widely spoken across its population. Romania ranked 17th out of 100 countries in the E.F. English Proficiency Index in 2022. Beyond English, Romania boasts a significant pool of software developers fluent in German and French, enhancing collaboration with European clients.
Culturally, Romania shares close ties with Western European countries and the U.S., making it easier to align work ethics and values.
This high level of English proficiency ensures seamless communication between international clients and Romanian software development teams. Misunderstandings and communication gaps are minimized, allowing for a smooth development process and efficient project management.
Additionally, the cultural compatibility between Romania and Western countries fosters a collaborative and harmonious working environment, making it easy for international clients to integrate their teams seamlessly when outsourcing software development.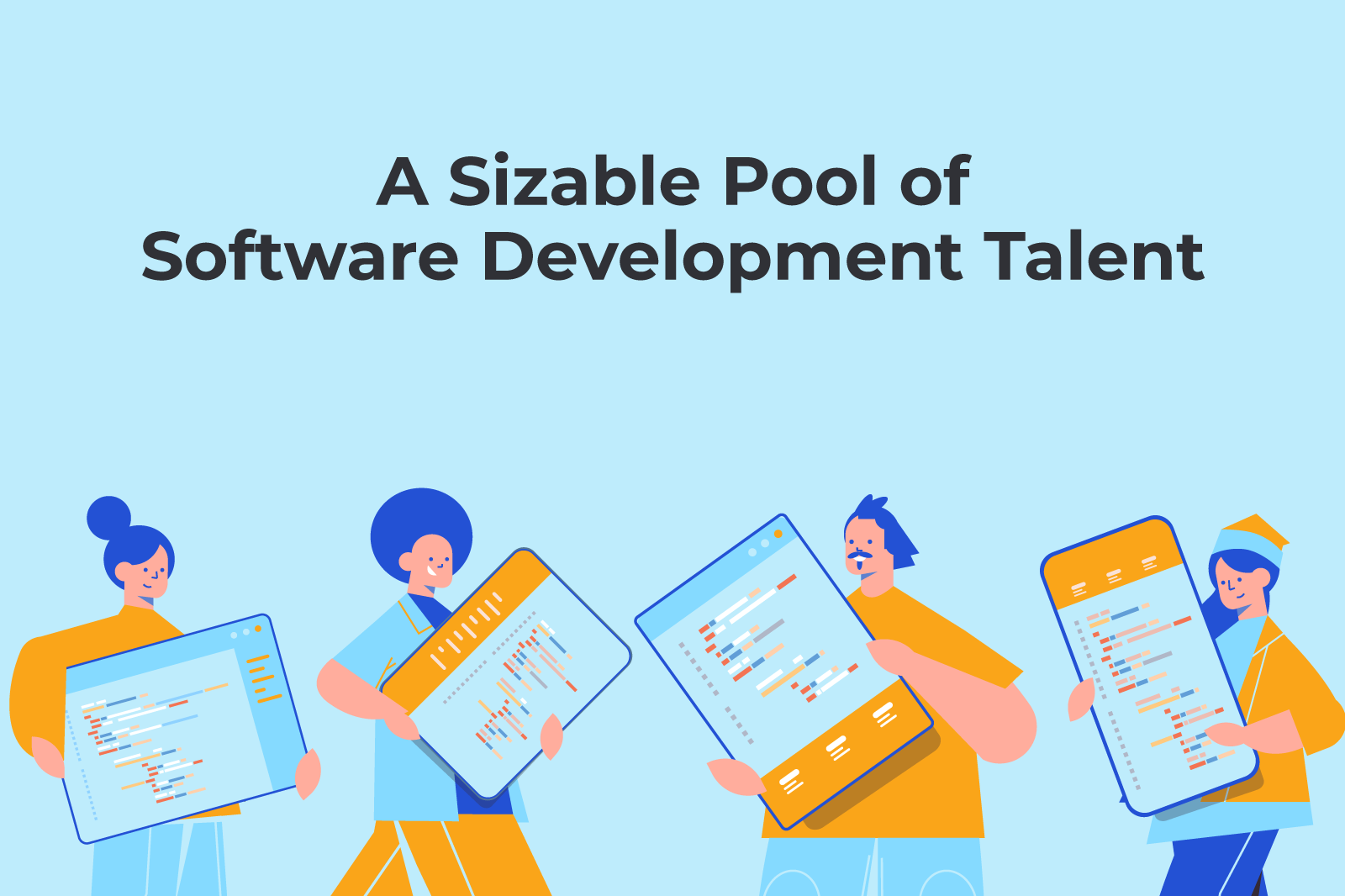 4. A Sizable Pool of Software Development Talent
Romania boasts nearly 20% of the total ITC workforce in Eastern and Central Europe, with major global players like Microsoft, Amazon, Google, and Oracle establishing a solid presence in the local market.
The country is estimated to have 120,000 to 140,000 software developers, with approximately 7000 to 8000 new talents joining each year from prestigious tech universities.
In terms of software developers per capita, Romania ranks in the top 10 in Europe, with 3.311 developers per 1000 inhabitants, according to the State of European Tech 2020 Report.
This abundant talent pool provides a wide range of skills and expertise for companies seeking software development outsourcing partners.
Clients can easily find developers with the specific technical knowledge required for their projects, from web and mobile app development to complex A.I. and IoT solutions.
Romania's focus on tech education and its rapidly growing tech community ensures a continuous supply of fresh talent with the latest industry insights and skills, making it an ideal destination for software development outsourcing.
5. Geographical Proximity to Western Europe
Romania's nearshore advantage lies in its proximity to Western European countries. It shares a time difference of only 1 hour with Rome or Madrid and 2 hours with the U.K., facilitating real-time communication between teams.
Multiple international airports in key I.T. hubs like Cluj-Napoca, Bucharest, and Timișoara ensure efficient travel for in-person collaboration.
With a 7-hour time zone difference from the U.S., Romania is also an excellent offshore software development outsourcing destination compared to other popular options with larger time zone differences (such as India, China, or the Philippines.)
The geographical proximity allows for convenient face-to-face interactions and team building, which is crucial for successful long-term collaborations.
Clients can easily visit their Romanian software outsourcing partners, fostering stronger relationships and a deeper understanding of their partner's work culture and processes.
Moreover, the strategic location of Romania in Europe makes it an ideal hub for companies with European clients, allowing it to tap into diverse markets seamlessly.
According to a CEE report, 74% of software development companies in Romania have European clients, and 22% are from the USA, which firmly highlights the cultural, linguistic, and values match.
6. Romania has an impressive Tech Infrastructure
Romania boasts the 4th fastest broadband internet in the world, with an average speed of 241.35 Mbps, ensuring smooth communication and data exchange. A reliable, high-speed internet connection is crucial for software development projects requiring real-time collaboration and seamless data transfer. This impressive tech infrastructure ensures teams can work efficiently, even when collaborating on large-scale and data-intensive projects.
Cluj-Napoca is located in Transylvania (yes, that Transylvania) and hosts our main headquarters. It's a leading I.T. hub that houses top-rated universities like Babeș-Bolyai and UTCN, contributing to the city's vibrant tech industry. Besides the impressive educational advantage, Cluj-Napoca is a major community and I.T. events hub with major conferences such as Techsylvania, DevTalks, and Cluj Innovation Days.
Bucharest, the capital, is considered Europe's 8th fastest-growing tech hub, indicating its robust technology infrastructure.
Other essential tech hubs like Timișoara, Iași, and Sibiu have state-of-the-art facilities and resources, making Romania a hotbed for innovation and technological advancements.
Romania's dedication to technology was also recognized in 2021 when Cluj-Napoca secured first place in the "Smart City" category of the Business-Friendly City Perception Index by Emerging Europe.
7. Robust Data Security Laws and Mechanisms
As a member of the E.U., Romania adheres to the General Data Protection Regulation (GDPR), one of the most robust data security regulations globally. For businesses seeking to protect their sensitive information, Romania offers a secure environment with strict data privacy laws.
Data security is critical to software development outsourcing, as companies often share sensitive business information and intellectual property with their outsourcing partners.
Romania's compliance with GDPR ensures that data is handled with the utmost confidentiality and that stringent security measures are in place to protect against data breaches and unauthorized access.
Summing It Up - Why Do Companies Outsource to Romania?
Romania stands out as a unique destination for outsourcing software development due to its unbeatable quality-to-price ratio, exceptional English proficiency and cultural match, thriving I.T. hubs, strategic geographical proximity, impressive tech infrastructure, and robust data security measures.
Romania balances the most crucial considerations for a successful and long-term outsourcing collaboration, making it an excellent choice for companies seeking to outsource software development.
If you're considering outsourcing software development to Romania, let's chat.